One of the events that served to give Cedar Mill its early identity was the designation of the area as a school district in 1856. However, earlier needs of the pioneers to educate their children led to a subscription school.
Mary Hall Reeves, who arrived in the area with her family in 1852, recalled her early education in Cedar Mill in the account compiled by her nephew, H. Ross Findley.
"In 1855 the first school was started. It was a subscription school and William Walker taught it in a part of my father's cabin. Among my school mates of that early day school I remember Holister McGuire, Samatha [Samantha] Cornell, Jim and Ed Balch, Bob [Robert] Walker, Dick Kyle, Marion Nickum, Amanda Barnes and some of the Phlippins [Flippins,] Campbells and one or two of my brothers. This school was continued as a private school until the Union School District was organized. "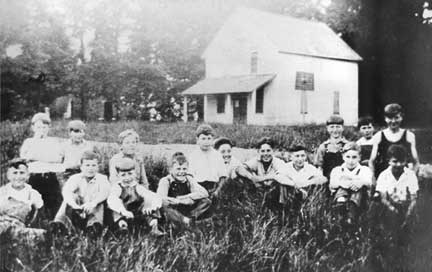 The first Union School
The Union School
While the subscription school was a private venture, the first public education facility was the Union School, or District #6. Although little is known of Union School's origin, several indirect references imply that the schoolhouse may have existed prior to 1860, and certainly by 1863.
The building jointly occupied with the Union Cemetery a 2.67-acre site on N.W. 143rd Avenue.
[Much more information in the book...]
Cedar Mill School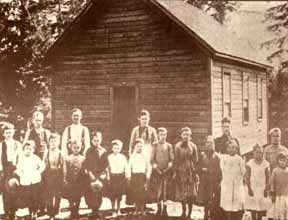 First Cedar Mill School, a simple wooden clapboard structure, built in 1884. (Courtesy Gertrude Walters Pearson Landauer)
A second public school existed in the area after 1883, when District #62J was established. The following year Cedar Mill School was built after Sam Walters presented the new district with a one-acre parcel of land from his donation land claim along the south side of upper Cornell Road.
<snip>
A few years after its construction, the school was moved to the north side of Cornell Road. The building was in use for 43 years until 1927. The previous year the school board included Louis Stark, clerk, James Walters, chairman, Samuel T. Walters, and Burton B. Reeves. Several of these officers may have been serving when plans were formulated for a new building.
On May 20, 1927, the Beaverton Enterprise announced:
Bids are being asked for a new schoolhouse at Cedar Mill. The building will be 2 rooms and basements, frame and stucco building with furnace heat. Spanish style of architecture will be used.
The new building was constructed on the site of the old schoolhouse on Cornell Road. In the fall of 1927, the modern schoolhouse, complete with basement, was ready for occupancy.