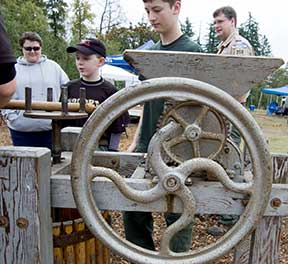 Boy Scouts from Troop 208 will once again be turning the presses to transform 800 pounds of apples, donated by Safeway, into delicious fresh cider for you to enjoy for free.
Photos: Jeanine Claar
Sunday, September 18, 2022, noon-4 pm
JQA Young House grounds
Cornell near 119th (12050 NW Cornell)
Since 2007, the Tualatin Hills Park and Recreation District (THPRD) has sponsored our local celebration of food, music, and history on the grounds of the historic JQA Young House on Cornell near 119th.
After a two-year hiatus due to the pandemic, we are delighted to bring back our community celebration, this year with a new flavor! It's welcoming week throughout the THPRD system, and we're spotlighting the generations of immigrants who have contributed to the rich flavor of Cedar Mill!
See how the pioneers made cider with antique, hand-cranked presses, and sample the results. Listen to the folk, bluegrass and old-time music of Lauren Sheehan and her String Band, and enjoy a delicious local lunch. Find out more about Cedar Mill history and the plans for the historic JQA Young House. Browse booths and learn about local organizations from our Community Partners.
Fabulous food
Don't eat before you come! We'll have great food! Fertties Barbecue is bringing their bright red truck to serve a variety of barbecue favorites. We'll post a menu soon!
Plenty of tables are set up for you to enjoy your meal with your friends and neighbors, while you listen to the music.
Boy Scout Troop 208 looks forward every year to running the antique presses to turn out free fresh cider from 1000 lbs. of apples, donated by Bales Marketplace. Grab a glass or two, you'll be amazed at the taste!
Hard Cider!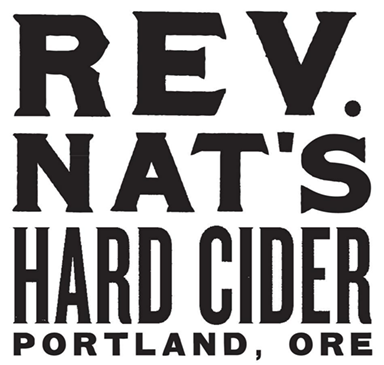 New this year! Reverend Nat will be bringing their tasty hard cider! Thanks THPRD for allowing this—it's been requested over the years but finally this year it's happening! At this point we're not sure if they'll be giving sample tastes, or just selling packaged cider to consume on-site and take home.

Entertainment
Lauren Sheehan and her band will be back!. The band brings acoustic bluegrass and Americana sounds to accompany this fun family event. We know you will enjoy their music!
There may be more entertainment so stay tuned!
Our real history
The History Tent tells our history stories with a collection of photos from Cedar Mill History Museum.
The Tualatin Hills Park and Recreation District (THPRD) owns the house and grounds, and is the main sponsor of the event. A portion of the proceeds from the Vendor Alley sales will go to the restoration fund. Donations are also welcome!
For the kids
THPRD will bring along the Rec Mobile to provide games and activities under the spreading hickory tree, including pioneer coloring pages.
The grounds are wheelchair accessible, although the area is not paved and can be rough in spots. Free parking will be available after 1 pm in the Cedar Mill Bible Church parking lot. Look for the signs on Cornell. For information about this event call THPRD at 503-645-6433.
TriMet - Lines 62 Murray & 48 Cornell depart from the Sunset Transit Center.
For more info, please contact Virginia Bruce.
Join and share the event on Facebook
Download and share the flyer and poster!